Where We Create TV & Talk Radio Shows, Conservative
   News & Cartoons for Our Subscribers, Viewers and the Public.
(WFZR Radio / WFZ-TV)
Saturday, April 12, 2014
WH
Saturday, April 12, 2014
In this episode of The Truth Is Viral Live, host Bobby Powell interviews radio host Pete Santilli who has been at the Bundy ranch, where BLM officers have surrounded the family farm of Nevada resident Cliven Bundy, since the standoff began. Friday night, the F.A.A. declared a "No-Fly Zone" above the ranch.



Santilli's video of BLM officers attacking protestors has gone viral, garnering the attention of the mainstream media and militias from around the country. Thousands of protestors have made their way to the desert in order to face down a Federal government run amok.
Friday, April 11, 2014
WH
FROM OUR TV OUTLET WHDT - WFZ-TV
Somebody is really playing Dirty ? Could it be Dirty Harry ?
WH
WELL ERIC - I THINK THAT BLM BULLSHIT FINISHED US !
Breaking: Sen. Harry Reid Behind BLM Land Grab of Bundy Ranch
BLM attempted cover-up of Sen. Reid/Chinese gov't takeover of ranch for solar farm
(KitDaniels) - The Bureau of Land Management, whose director was Sen. Harry Reid's (D-Nev.) former senior adviser, has purged documents from its web site stating that the agency wants Nevada rancher Cliven Bundy's cattle off of the land his family has worked for over 140 years in order to make way for solar panel power stations.
The first segment of the document pulled by the feds from BLM.gov.
Deleted from BLM.gov but reposted for posterity by the Free Republic, the BLM document entitled "Cattle Trespass Impacts" directly states that Bundy's cattle "impacts" solar development, more specifically the construction of "utility-scale solar power generation facilities" on "public lands."
"Non-Governmental Organizations have expressed concern that the regional mitigation strategy for the Dry Lake Solar Energy Zone utilizes Gold Butte as the location for offsite mitigation for impacts from solar development, and that those restoration activities are not durable with the presence of trespass cattle," the document states.
The second segment of the document pulled by the feds from BLM.gov.
Another BLM report entitled Regional Mitigation Strategy for the Dry Lake Solar Energy Zone (BLM Technical Note 444) reveals that Bundy's land in question is within the "Dry Lake Solar Energy Zone and surrounding area" which is part of a broad U.S. Department of Energy program for "Solar Energy Development in Six Southwestern States" on land "managed" by BLM.
"In 2012, the BLM and the U.S. Department of Energy published the Final Programmatic Environmental Impact Statement (PEIS) for Solar Energy Development in Six Southwestern States," the report reads. "The Final Solar Programmatic Environmental Impact Statement assessed the impact of utility-scale solar energy development on public lands in the six southwestern states of Arizona, California, Colorado, Nevada, New Mexico, and Utah."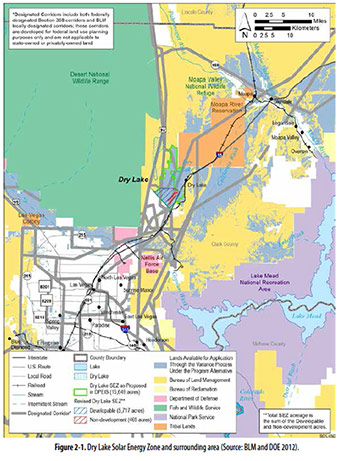 Dry Lake Solar Energy Zone and surrounding area (Click to enlarge.)
"The Approved Resource Management Plan Amendments/Record of Decision (ROD) for Solar Energy Development in Six Southwestern States implemented a comprehensive solar energy program for public lands in those states and incorporated land use allocations and programmatic and SEZ-specific design features into land use plans in the six-state study area."
Back in 2012, the New American reported that Harry Reid's son, Rory Reid, was the chief representative for a Chinese energy firm planning to build a $5-billion solar plant on public land in Laughlin, Nevada.
And journalist Marcus Stern with Reuters also reported that Sen. Reid was heavily involved in the deal as well.
"[Reid] and his oldest son, Rory, are both involved in an effort by a Chinese energy giant, ENN Energy Group, to build a $5 billion solar farm and panel manufacturing plant in the southern Nevada desert," he wrote. "Reid has been one of the project's most prominent advocates, helping recruit the company during a 2011 trip to China and applying his political muscle on behalf of the project in Nevada."
"His son, a lawyer with a prominent Las Vegas firm that is representing ENN, helped it locate a 9,000-acre (3,600-hectare) desert site that it is buying well below appraised value from Clark County, where Rory Reid formerly chaired the county commission."
Although these reports are in plain view, the mainstream media has so far ignored this link.
The BLM's official reason for encircling the Bundy family with sniper teams and helicopters was to protect the endangered desert tortoise, which the agency has previously been killing in mass due to "budget constraints."
"A tortoise isn't the reason why BLM is harassing a 67 year-old rancher; they want his land," journalist Dana Loesch wrote. "The tortoise wasn't of concern when [U.S. Senator] Harry Reid worked with BLM to literally change the boundaries of the tortoise's habitat to accommodate the development of his top donor, Harvey Whittemore."
"Reid is accused of using the new BLM chief as a puppet to control Nevada land (already over 84% of which is owned by the federal government) and pay back special interests," she added. "BLM has proven that they've a situational concern for the desert tortoise as they've had no problem waiving their rules concerning wind or solar power development. Clearly these developments have vastly affected a tortoise habitat more than a century-old, quasi-homesteading grazing area."
"If only Cliven Bundy were a big Reid donor."
Update: The Drudge Report, the #1 news aggregate site in the world, has now picked up this story. Unfortunately for the BLM, the documents they wanted to delete are now exposed for the world to see.
Tags: BLM land grab, bundy, cliven, nevada rancher, senator harry reid
This entry was posted on Friday, April 11th, 2014 at 4:03 pm and is filed under Dictatorship, Education/Mind Control, Fascism, Martial Law/Police State, NWO, Politics/Corrupt. You can follow any responses to this entry through the RSS 2.0 feed. You can skip to the end and leave a response. Pinging is currently not allowed.
WH
RELATED STORY FROM THE LAS VEGAS REVIEW - JOURNAL-OUR REPORT IS BELOW
!
Militias 'mobilizing' to support embattled Clark County rancher in clash with federal rangers
FOX NEWS: Groups from as far away as New Hampshire are riding out to Nevada to join the cattle rancher whose standoff with the federal government is growing tenser by the day.
The groups said they were going to the ranch, some 80 miles north of Las Vegas to stand with Cliven Bundy, who property is surrounded by federal agents. Bundy's herd, which once numbered nearly 1,000, is being thinned out by private contractors under the watch of dozens of armed federal agents in SUVs and helicopters, the government says, he has refused for two decades to pay fees to allow the cattle to graze on federal lands.
"Our mission here is to protect the protestors and the American citizens from the violence that the federal government is dishing out."

- Jim Landy, West Mountain Rangers
"Our mission here is to protect the protestors

and the American citizens from the violence that the federal government is dishing out," Jim Landy, a member of the West Mountain Rangers, who made the journey from Montana to Nevada, told Fox News Channel. "People here are scared."
Bundy's family called for support this week after some incidents of violence between the family and protestors with law-enforcement. Bundy's son was shot with a stun gun on Wednesday and his sister, Margaret Houston was pushed to the ground in incidents caught on video. The protests began to grow last week, after agents from the federal Bureau of Land Management shut off access to a large swath of federal land to round up Bundy's cattle.
Landy said groups were going to the scene to try to help keep the peace.
"The Bundy family is expecting to be shot if they try to round up their own cattle," he said. "We are here to make sure they are not harmed. The American people are afraid of their Federal Government."
Members of a Utah militia arrived at the ranch Wednesday, and other militias from Texas, New Hampshire and Florida are reportedly set to arrive in the coming days.
The fight involves a 600,000-acre area under BLM control called Gold Butte, near the Utah border. The vast and rugged land is the habitat of the protected desert tortoise, and the land has been off-limits for cattle since 1998. Five years before that, when grazing was legal, Bundy stopped paying federal fees for the right.
"For more than two decades, cattle have been grazed illegally on public lands in northeast Clark County," the BLM said in a statement. "BLM and (the National Park Service) have made repeated attempts to resolve this matter administratively and judicially. Impoundment of cattle illegally grazing on public lands is an option of last resort."
Bundy, 67, who has been a rancher all his life, told FoxNews.com last week he believes the federal agency is trying to push him to the breaking point and likened his situation to the 1993 disaster in Waco, Texas, in which federal and state law enforcement agencies laid siege to a compound of religious fanatics calling themselves Branch Davidians, a move that resulted in the deaths of 76.
Bundy, a descendant of Mormons who settled in Bunkerville more than 140 years ago, claims an inherent right to graze the area and casts the conflict as a states' rights issue. At a news conference Friday on his ranch, he said the federal government is wrong to deny his cattle access to the grazing land they've always used. He said he barely recognized the land during an airplane flyover earlier in the day.
"I flew down along the river here, and I'd seen a little herd of cows," he told a gathering of supporters. "Baby cows. They was grazing on their meadow and they was really quite happy.
"I then flew up the river here up to Flat Top Mason, and all of a sudden, there's an army up there. A compound. Probably close to a hundred vehicles and gates all around and vehicles with armed soldiers in them.
"Then I'm wondering where I am. I'm not in Afghanistan. I think I'm in Nevada. But I'm not sure right now," he said to applause and defiant shouts.
Federal officials said that BLM enforcement agents were dispatched in response to statements Bundy made which they perceived as threats.
"When threats are made that could jeopardize the safety of the American people, the contractors and our personnel; we have the responsibility to provide law enforcement to account for their safety," National Park Service spokeswoman Christie Vanover said to reporters Sunday.
The land issue allegedly began after Bundy stopped paying grazing fees in 1993. He said he didn't have to because his Mormon ancestors worked the land since the 1880s, giving him rights to the land.
Fox News Channel's Matt Finn contributed reporting to this story.
WH
Zeituni Onyango, President Obama's illegal alien aunt,

died this week of cancer and other complications. I hope she rests in peace. America, however, should be up in arms.
Auntie Zeituni is an enduring symbol of all that is wrong with this country's immigration "policy" — or rather, its complete lack of a coherent, enforceable system of laws and rules that puts the national interest first. She was a beneficiary of the welfare state run amok, enabled by bipartisan fecklessness. To the bitter end, she bit the hand that fed her with predictable ingratitude and metastatic entitlement.
Zeituni's 14-year illegal overstay is a reminder that our temporary visa program is an abysmal joke. Like millions of foreign students, business people and tourists to this country, Auntie Zeituni obtained a short-term visitor visa in 2000. It had an expiration date. She was supposed to go back to Kenya in two years after traveling here with her son, who had been accepted at a college in Boston.
But like millions of other "temporary" visa overstayers, Auntie Zeituni never went home. And despite billions spent on homeland security and immigration enforcement, no one ever went looking for her to kick her out of the country after her time was up.
Auntie Zeituni had no job skills, no special talent, no compelling reason to keep her here in America as an asset to our culture or our economy. She didn't value the American Dream. She was a dependency nightmare. She collected $700 a month in welfare benefits and disability payments totaling $51,000. Somehow, Auntie Zeituni also drummed up money to apply for asylum and finagled her way into both federal and state public housing in Boston.
She contributed nothing to this country. The only "work" she did was gaming the system, complaining about her lot and blaming everyone else for her problems while they subsidized her 14-year illegal overstay.
Auntie Zeituni's ridiculous asylum application and what happened afterward are reminders that our asylum and deportation systems are appalling jokes. Auntie Zeituni's bogus request was rejected by the immigration court system. A judge ordered her to return to Kenya in 2003. She appealed. She lost. A judge again ordered her to leave in 2004.
But Auntie Zeituni never went home. Like an estimated 700,000 other deportation absconders, she evaded the judicial order for nearly a half-dozen years and continued to feed at the government trough. When the Bush administration had the chance to put the pedal to the enforcement metal in 2008, they caved. Pandering to pro-amnesty forces, Bush officials issued a 72-hour cease-and-desist order to all fugitive apprehension teams to spare Obama embarrassment over his auntie right before Election Day.
As an Immigration and Customs Enforcement source told me at the time: "The ICE fugitive operations group throughout the U.S. was told to stand down until after the election from arresting or transporting anyone out of the U.S. This was done to avoid any mistakes of deporting or arresting anyone who could have a connection to the election, i.e., anyone from Kenya who could be a relative. The decision was election-driven." Such stand-down non-enforcement orders are standard operating procedure in Washington.
Auntie Zeituni's illegal activity and ingratitude were rewarded time and time again. She got multiple bites at the immigration court apple, where it ain't over till the alien wins. Despite twice being ordered to go home, the feds allowed her bogus case to be reopened. After breaking visa laws, campaign finance laws (she donated illegally to Obama three times), deportation rules and judicial orders, she was allowed to have yet another hearing. Her manufactured claim of a "credible fear of persecution" in Kenya made a mockery of every legitimate case for asylum or refugee status.
"If I come as an immigrant, you have the obligation to make me a citizen," Auntie Zeituni demanded. She griped that America had "used" her and then cashed in on a book about her travails called "Tears of Abuse." And then, after a decade of doing absolutely nothing to enhance the well-being of our country, she received a coveted green card in 2010.
Neither Republican nor Democratic leaders in Washington had the will to kick this trash-talking freeloader (or her drunk-driving, deportation-evading, amnesty-securing deadbeat brother Omar Onyango) out of our home. Auntie Zeituni's story is a disgraceful reminder that the only thing worse than the ingrates thumbing their noses at our immigration laws are the people in power on both sides of the aisle enabling them.
Open-borders bipartisanship is suicide.
Michelle Malkin is the author of "Culture of Corruption: Obama and his Team of Tax Cheats, Crooks and Cronies" (Regnery 2010).