Where We Create TV & Talk Radio Shows, Conservative
   News & Cartoons for Our Subscribers, Viewers and the Public.
(WFZR Radio / WFZ-TV)
Saturday, July 16, 2016
WH
UN Backed MS-13 to Carry Out Assassinations of American Police Officers

On Thursday, July 14, 2016, Steve Quayle sent me an article, published by the Associated Press which detailed how the United Nations would be used to enforce martial law inside of the United States. Steve asked me to look into this further.
I was in the process of returning from vacation when I received Steve's message. However, I did reach out to several sources while on the road and what I learned was similar to what I learned from an active DEA agent and two Border Patrol personnel in July of 2014. I was not able to reach the DEA agent, however, I did speak to two Border Patrol agents who were eager to share updated information.
Border Patrol Revelations From 2014
In July of 2014, I wrote the following account, provided from two Border Patrol personnel regarding who is in charge of running the American/Mexico border:
"Last night, this same Border Patrol Agent called me at the number on my business card. He stated that he had been reading my articles and that he felt that I was expressing a deep understating the problem. However, he unequivocally stated my knowledge of UN involvement on the border was significantly outdated and understated. He stated "the UN is already here and he has seen clear evidence that they are calling the shots on the border".

This agent claims that he has encountered UN personnel at the detention facilities that he and fellow agents take the illegal immigrants to after arresting them. I asked him how he knew there were UN representatives at the border, he said he saw the proof in the sign-in sheets at the detention centers. Also, he noted that members of the World Health Organization have been in attendance as well. So, Dr. Jane Orient's fears of a pandemic invasion may indeed be well-founded.




Throughout the course of his duties, the agent has learned that UN personnel are making decisions on which immigrants to send to what location inside of the United States. He said he has seen the UN personnel and DHS agents gathering MS-13 gangsters, captured from different roundups, patch worked together as a group and then shipped together to various locations on the perimeter of the United States. He knows this because some of his colleagues are involved in the transport of these illegal aliens. The agent's partner, also on the phone, stated that "I objected to admitting MS-13 gangsters into the United States and I was told that we have our orders to treat them like anyone else".
New Revelations From Border Patrol Personnel
The Obama administration is famous for catch and release activities with regard to illegal aliens crossing the border. Illegal aliens who commit felonies are also protected from deportation and criminal prosecution if they are members of MS-13.
Two years ago, it was revealed to me that MS-13 members were being detained in border facilities until there were 7-10 of them in custody and then they were released. This got me immediate attention because I knew the drug cartels use MS-13 to murder policemen, judges and politicians that get to close their drug running operations. The immediate implication on why they were being brought into this country by the thousands told me that our people who work in law enforcement and politics would soon be at risk. I could see no other reason why they were being admitted.
Today, Border Patrol personnel are processing the same MS-13 people over and over. They get caught for committing a crime, they are sent the offenders and then ICE officials step in and order the immediate release of these people.
One Border Patrol person told me that he is hearing from the MS-13 temporary detainees that something big is coming and that certain people, namely cops, are going to get what is coming to them. The universal interpretation is that they must be referring to a false flag event that involves MS-13 and the killing of American police officers.
The operating hypothesis is that they are going to be used spread terror through assassination in the United States. Some think that it is not BLM we need to fear. One theory that I was told that some Border Patrol agents hold is that BLM is simply a distraction and the real violence,, with intended targets will be carried out by MS-13. This is not to say that BLM will not carry out violent acts, but the real terror will be carried by MS-13 and BLM will get the blame. Remember, the drug cartels already use MS-13 to kill pesky police in Mexico.
Why Was a Congressman Refused Admittance to Ft. Sill in 2014?
In 2014, I reported that Congressman Jim Bridenstine "stuck his nose in the middle of this situation as he unsuccessfully attempted to gain access to the illegal immigrant center at Ft. Sill, OK."
Human Health Services, operating with UN health officials refused to allow a member of Congress to enter a facility in his district where some of the unaccompanied immigrant children are being housed. There are 1,200 immigrant children being kept at Ft. Sill. Ft. Sill is within Bridentstine's district. The American people are supposed to be able to depend on Congress to protect the American public from the excesses of the executive branch of the government and in the fulfillment of this duty, the Congressman was denied entry by a guard hired by Human, Health Services. He was told to return after July 21st to "

make an appointmen

t".
At the time I suspected that Congressman Bridenstine was being kept away from child trafficking operations that were being put together at Ft. Sill. I still believe that to be the case because it fits the profile. However, both Border Patrol agents know for a fact that many MS-13 were kept for weeks at a time at facilities such as Ft. Sill. I think it is safe to say that these gangsters were not receiving instruction on how to become an American citizen. Were they receiving their marching orders and will soon be carrying them out? Based on comments made to Border Patrol agents that they were here to help the blacks of America, and to kill cops is very telling.
Conclusion
The operating hypothesis is that MS-13 is here to exacerbate the brewing race war. It will be them who carry out the killings, not BLM, but BLM will get the blame. "They are here to kill cops", said on Border Patrol agent.
Both Border Patrol blame the UN for what is happening. Two years ago they both told me that the UN definitely appeared to be in charge when they were interacting with DHS during the border crisis at the time.
With yesterday's revelation that the UN will participate in martial law activities against the American people, it is easy for me to believe the catalyst for martial law will be the UN sponsored MS-13 gangsters who have been admitted for the last two years into this country. And with MS-13's known reputation as assassins of police and politicians, it is not hard to see where this is headed.
This is only the tip of the iceberg about what I am learning about this crisis.
Thursday, July 14, 2016
WH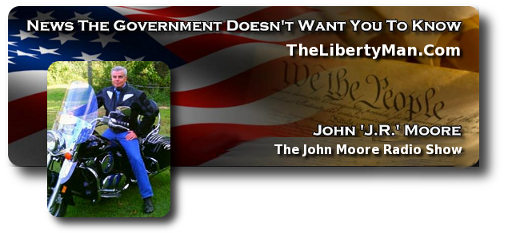 ~~~~~
About John Moore
John Moore first fought terrorism in 1967. He is still fighting it today.
Walking patrol in Vietnam, at night, alone, he searched for terrorist booby traps. He searched for terrorist bombs in his jeep and saw what happened to those who did not find them.
J.R. flew 57 combat missions (as a crew member) over Vietnam and Cambodia, many of those being hit by enemy gunfire.
John went on to join the Green Berets at Fort Bragg where he trained to invade the Middle East. He also did classified studies of Middle-East terrorists for the Special Forces.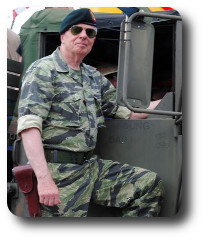 Special operations, covert operations, psychological operations, undercover operations, surveillance operations, bodyguard for executives and stars like Ambassador Alan Keyes, Jane Fonda (

John initially turned turned down the assignment. After learning he could prevent collateral damage to innocent parties, he accepted the assignment.

) Charleton Heston and Pat Buchanan, private investigator and homicide detective: these are the jobs that have kept J.R. busy..
John has seen the consequences of terrorism first hand. He has heard the cries of the wounded and smelled the smoke of the bombs.
In research delving into the issue of Planet "X", aka Nibiru, he has interviewed dozens of US Navy submarine and surface fleet veterans on the subject of rapid global sea level rise, gleaning information from the questions he asks,

questions the main stream media is afraid to ask

. His investigative prowess has allowed him to produce two major videos on the subject of Planet "X"; videos that are backed up by diligent research, documented history and scientific fact.
John Moore also broke the story in the alternative media on the actual stoppage of the Gulf Stream in June of 2010. Through his carefully cultivated ties with noted domestic and international scientists and with learned academics, he was able to bring to the public's attention the potentially devastating effects of current's termination off of the coast of Cape Hatteras. Unfortunately, the Winters of 2010-2011 and 2011-2012 have borne out his fore-stated hypothesis of bitterly cold winters afflicting the UK and much of Western Europe.
Currently, John uses his experience to help others be safe from terrorism. The author of a book on personal security, the producer of a seminar on video about being safe from terrorism, John is appearing on talk shows around the country.
With his book and videos, you can now have John Moore as your personal bodyguard instructor. Learn and listen well, IT COULD SAVE YOUR LIFE.
Career Highlights
Speaker and Trainer since 1986

Radio Talk Show Host

Private Investigator

Homicide detective since 1973

Homicide Detective State of Missouri 8 years

Decorated Vietnam Veteran

Flew 57 combat missions

Bodyguard Assignments

Author of numerous articles on personal security

Author of

Feel Safe Anywhere: You Can Be Your Own Bodyguard
Site Introduction
TheLibertyMan.com web site is chock full of informative, timely and pertinent information that is valuable for the informed American. Whether one might be seeking consulting services, survival products, commentary on current events or simply analyzing their realistic choices for the future, this is a must visit web site.
Special attention should be paid to both the products and links pages contained herein, there is much valuable information here and superior products are also available for on-line ordering at very competitive prices.
Special Videos
XXXXXXXXXXXXX
---
Ladies and Gentlemen,
The following presentation has too many consistencies with what I know and have been stating publicly for years to ignore.
My many decades of interviewing witnesses makes me wary of third party information. However, what this gentleman states is so close to describing the Mississippi River Valley becoming an inland sea, thus "splitting the country", I can't just ignore it. The concerns he heard expressed about "the weight of the water" conforms precisely to what the U.S. Navy tells their men in their own classified briefings about the weight of the water on the New Madrid Seismic Zone triggering three 9 point+ earthquakes.
His statements about the weight of the water on the coasts could only refer to the consequences of increased sea levels. There is no second option.
Watching and listening to this man reminds me of several apocalyptic films wherein the scientists are ignored until it's too late for the officials in charge of disaster preparedness to properly mitigate and protect the people.
XXXXXXXXXX
The Link Between The Leaked US Navy Map, Hundreds Of Walmart's Closing, & FEMA Regions
~~~~~~~~~~~
Regards,
John Moore
April 19, 2016;
---
---